One of my clients called me  and she was in quite a state.
"Kelly, thank you for helping me with my move. Moving is so stressful but Zeal made it so much easier! I have never been so relaxed during a move! I have another job for you – if you're up for it…"
Now, I'm always up for a good challenge so I said, "Hit me up, Susan! How can Zeal help? "
"I started the unpacking process and my mother-in-law volunteered to help out, especially since I recently moved jobs and needed to spend most of my attention at work. While I appreciate the help, I just don't like the kitchen setup so far. She's rearranging all the cabinets and it simply doesnt' feel right. This morning, I reached for a coffee mug only to find myself staring at a stack of dessert bowls. I love surprises but only in the form of jewelry or food as gifts!"
I completely understood Susan's issue. For those of us who organize and provide functional solutions for a living, we have a certain way of doing things. Though the contents of the fridge or cupboard might not seem like a big deal, it can certainly disrupt our routine where you just feel something is 'off'. That ends up playing on our minds and taking energy away from your already over-full plate. What we don't want is to end up with a situation like the below: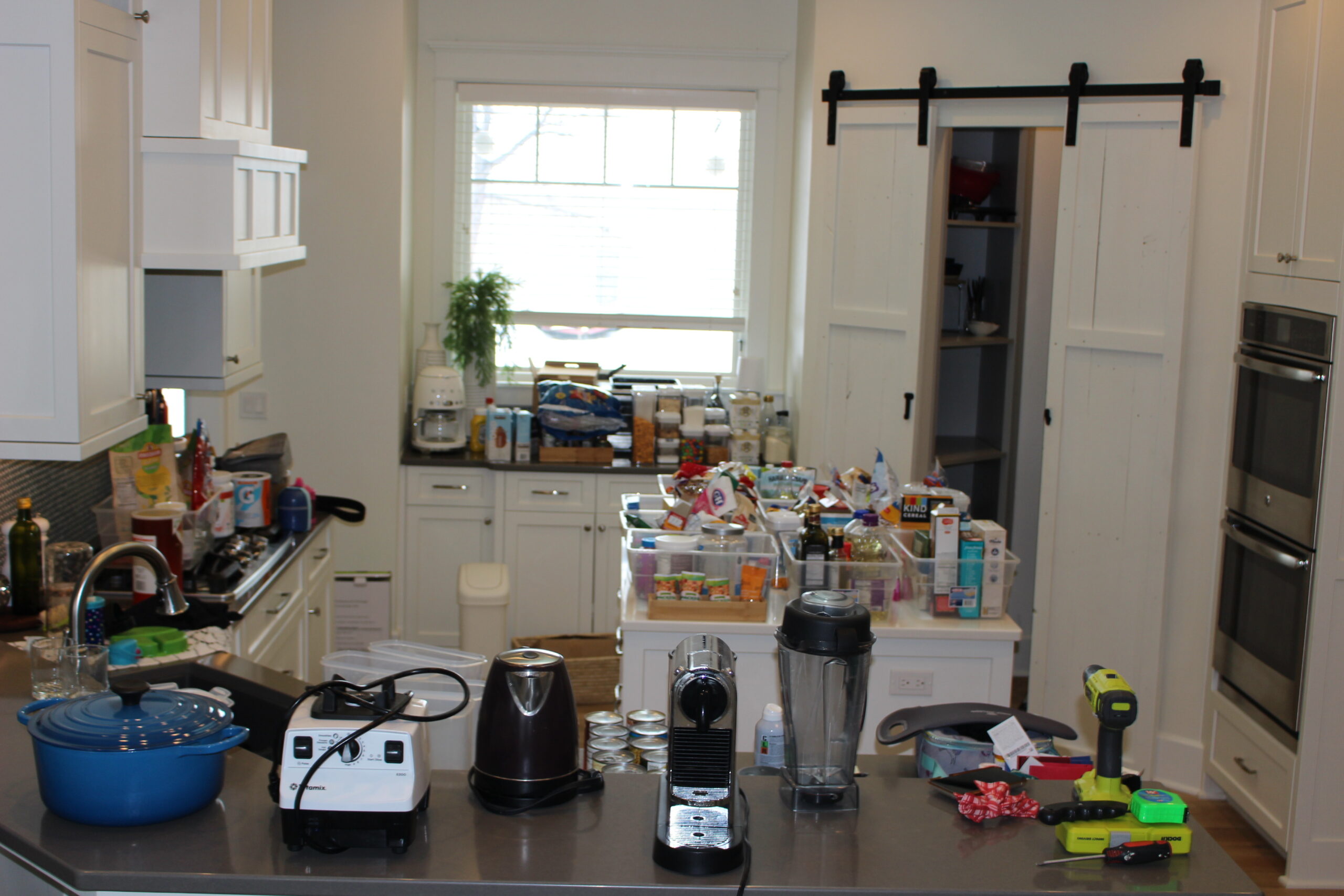 Unpacking An Organized Kitchen
She needed help and that's what I and Zeal are here for, "Susan, you just focus on the new job – I'll get your kitchen sorted out!"
Organizing a kitchen, or the heart of the home in my opinion, takes more finesse than one realizes. There is a 'right' way of setting things up, and it all boils down to one thing: being efficient. Setting up your kitchen the right way makes cooking and overall living easier, believe it or not. You can either love or hate your home and Zeal is here to help you not only appreciate your living and cooking space but get the most out of them!
Here are my top tips for unpacking and organizing your kitchen:
Cookware and Appliances
Your go-to cookware items should be housed close to the stove for easy access. These include pots, pans, saucepans, and baking trays.
Cooking aids like the toaster, blender, air fryer, and others should only be kept on the counter if you use them every day – otherwise, store them in a cupboard to avoid cluttering the space. Use a large cupboard for storage instead of many smaller spaces – you want your appliances in one area not scattered around the kitchen… The same goes for larger appliances like the dishwasher – you want this close to the kitchen sink for easy loading.
Dishes (incl. silverware)
The next set of items that generally use up a good amount of real estate in the kitchen tends to be the dishes. I always say: store them logically. What does that mean? Think about the placement of your coffee machine or fridge. Does it make sense to keep the mugs on one end of the kitchen if your coffee machine is on the opposite side? What about glasses? Wouldn't it make sense to keep the glasses closer to the fridge or sink, for easier access?
Cooking utensils and spices
Finally, we come to the cooking utensils and spices. Since these are imperative to the entire process, keep them close – ideally, in the drawer next to the stove. If you don't have a drawer nearby, use a utensil holder and, depending on whether you're right or left-handed, the holder should be placed on your dominant side.
Kitchen tools that are used less frequently (but often enough) should be placed on your less dominant side, and might include things like a vegetable peeler, can opener, garlic press, and other items.
Your spices and oils should be next to the stove, if possible (consider the storage instructions for certain oils and spices first). Seeing that these items are used for every meal, it doesn't make much sense to store them in the pantry or on the opposite end of the kitchen. I am a huge fan of spice racks and whether used countertop or placed in the cupboard next to the stove, they're a great way of storing spices efficiently. Keep spices that are used less often in the pantry or another area out of the way.
Fridge and Pantry
I am a huge fan of storing foods like pasta, flour, rice, and other grains, nuts, and more in clear containers. They not only look beautiful but it's a great way of understanding supplies at a glance before the trip to the grocery store.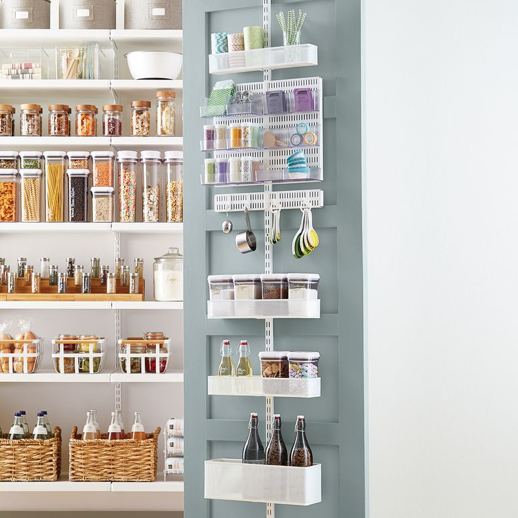 Storage Containers
Many of us have containers to store food (in the fridge or the pantry). I always set aside a specific area (drawer or shelf space) for food storage containers. I'm also a fan of keeping the lids on each container instead of stacking them as lids tend to disappear and you're left with a useless container – one you may be loath to throw away since you always hope the lid will magically pop up… Store items like a paper wrap, tinfoil and similar in the same space as they serve a common purpose in most cases.
Hot Beverages
The tendency to acquire a variety of teas, coffees, and other hot beverages demands they have their own space in the kitchen. These items can accumulate and end up cluttering your kitchen space.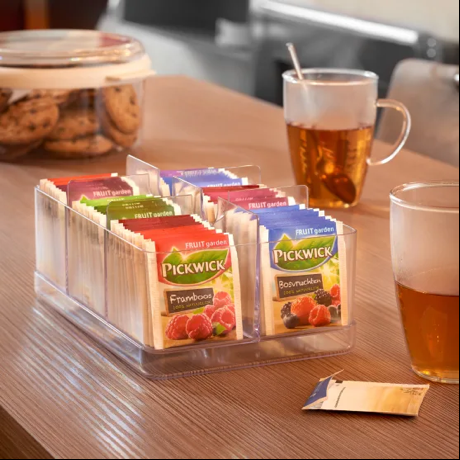 I'm always interested in combining functionality and design and would recommend purchasing an organizer for your tea, coffee, and other hot beverages. Store these near (or next to) the coffee machine for easy access.
Cleaning Supplies and Recycle Bins
The most logical spot to store the trash and recycling bins is near the kitchen sink (the most traditional spot) as it makes the discarding of kitchen waste efficient. Store dishtowels and kitchen cleaning supplies (detergent, dish soap, etc.) near or under the sink as well.
Store items like mops, brooms, vacuum cleaners, etc., in a closet – these closets are usually located near the pantry or kitchen door.
Zeal Helps
I've organized more kitchens than I can count and have helped so many clients learn how to designate a space for everything kitchen-related. Failure to do so usually ends up with many 'junk' drawers and clutter, spoiling the entire space. Organizing the right way saves  a future headache!
No time to pick up your house? Wishing you could come home from a long day of work to a tidy house? Now you can! Zeal Organization and Tidy services can be scheduled for 1, 2 or 3 times per week! Come home to:
clean dishes
a made bed
toys put away
a stocked fridge and pantry
clean counters
freshly folded (and put away) Laundry